There's nothing more enticing than the smell of a warm waffle while walking around. More than just an impulse product, the hot waffle is an exceptional specialty. But to be able to fully satisfy the customers, it is imperative to have a high quality product and to process it in the right way.
The waffle dough is the very essence of a high quality finished product.
One waffle is not the same as the other. In order to please the consumers, you must have a constant quality and a dough that can give the best finished product.
With our family experience, our teams will help you throughout the different stages of learning.
Our goal will always be to provide the end consumer with an exceptional product through you. A quality waffle will allow you to reach a larger and more loyal target group.
In this respect, Pegi will be the ideal partner in terms of flexibility and collaboration to further develop your business.
Pegi waffle dough comes from a long line of bakers who have always kept the secret of the original recipe unchanged. Our pastry chefs will offer you a high quality dough that will make the difference when you taste it.
Our dough recipe is identical to that of our baked waffles. This means that the waffle will keep very well after baking and can be eaten hot or cold for up to two weeks after baking. This will allow you to reduce waste and, above all, to be sure that even a reheated waffle will delight your customers.
We believe that selling a quality product leads to success, which is why our customers are our best partners. We take care of the product, they take care of the service.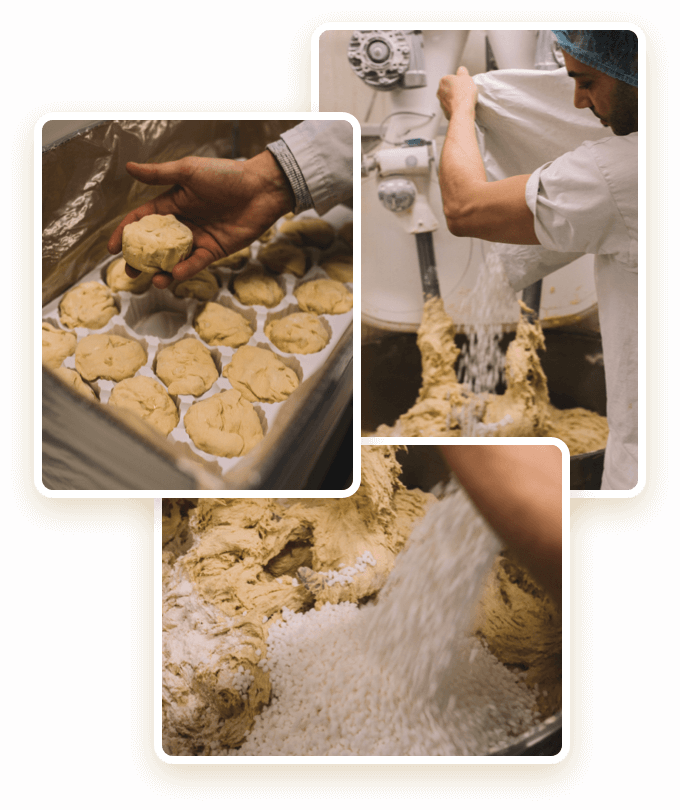 sugar pearls per waffle on average
Processing the waffle dough
The waffle dough is sold frozen, it will be delivered to you and must be stored at -18°C.
The dough must follow intermediate steps before it can be baked:
– Defrosting: depending on the room temperature, it can take between 4 and 6 hours.
– Fermentation: the Liège waffle is a bakery product, which contains yeast. This yeast must operate and ferment so that the final product is airy and tasty. This step can take an additional 1 to 1.5 hours. This is what allows the product to grow in volume.
– When the product takes on this softer, smoother texture, you can put it in your waffle iron.
It is important to have the right equipment to make things easier for you. You will need:
– A fork to remove the waffles from the iron
– A grid to cool the hot waffle
– We can provide you with the appropriate equipment if necessary