Everyone has eaten a waffle at least once in their life. Gaufres, waffles or wafers exist all over the world, in all sort of shapes and flavours. And yet, the Belgian waffle (or Liège waffle or sugar waffle) is one of the culinary symbols of our country alongside chocolate, beer and chips.
It is unique, soft and crispy at the same time. Its crunchy sugar pearls and its vanilla taste meet unanimous approval. The very sight of its golden and caramelised colour is a call for greed.
Today, with a unique family recipe that has been well preserved over the years, Pegi's artisan bakers keep the tradition alive and continue to make this national treasure available for tasting.
Waffle as a selling point.
The sugar waffle's sales have evolved considerably over the years. It has left the bakeries and found its way into other distribution channels:
Food service : do you fancy a waffle as a dessert at the restaurant? Do you want some bite to eat one the plane? Or a snack for the kids at school? The Liege waffle is a game-changer that can be used in many different ways.
Retail : a check-out product? A vending machine or a fine grocery store? Pegi waffles will delight the taste buds of the greatest number. Thanks to a packaging designed for distribution, they keep their qualities for several weeks.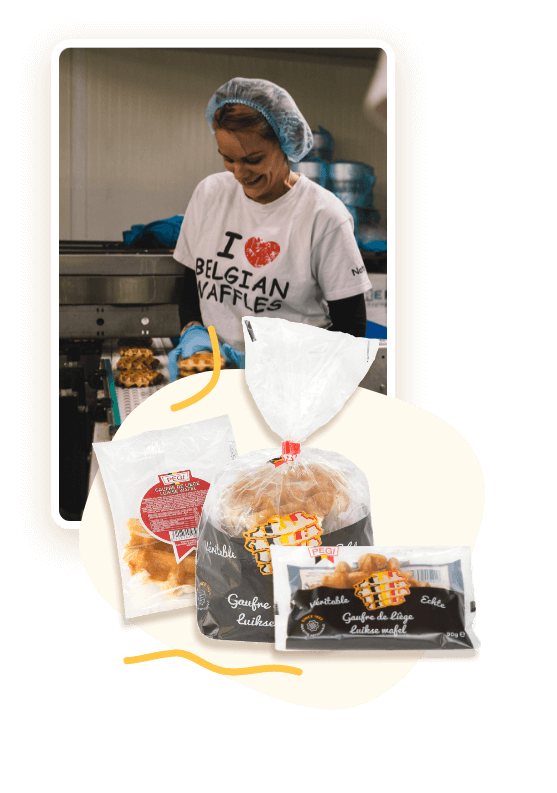 pearls of sugar per waffle on average
How to enjoy a real sugar waffle?
With or without topping?
Traditionally, a Belgian waffle is eaten plain. In fact, this the secret of its success. It is so tasty as it is that there is no need to add other ingredients. Unlike other types of waffles, the Liège waffle is self-sufficient. Of course, the more greedy among you won't be able to resist adding chocolate (Belgian, if possible), whipped cream or even fruit, and we won't blame you! You will enjoy it even more with the topping of your choice!
Warm or cold?
It is up to you! Both options are excellent. Hot from the iron of a waffle maker or cold as a snack to regain some strength? You can also heat it up yourself by following the instructions below:
Oven: without packaging, 2min at 200°C
Microwave: with the package open, 30 seconds at 750W
Toaster : 30 seconds at full power
When?
The Liege waffle will satisfy you at any time. In the morning for breakfast, as a snack in the afternoon or even in the evening during your cinema session. Enjoying moments at any time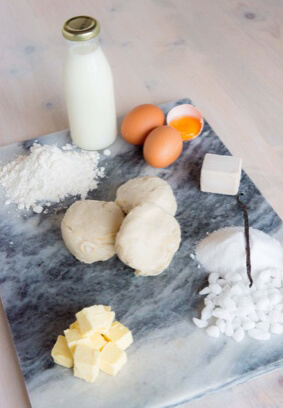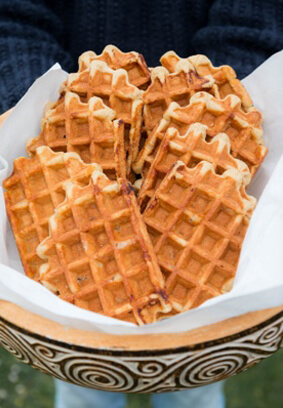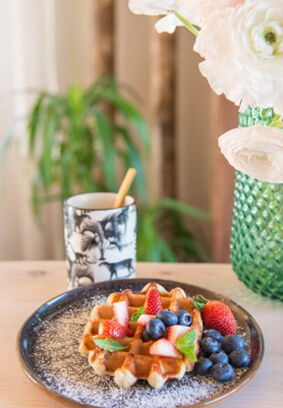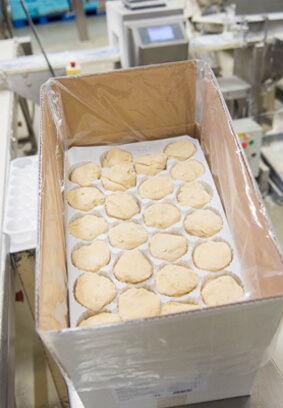 Our pastry chefs are constantly looking for new flavours to create ever more amazing waffles. The workshops are also equipped with a specific cell for the development of your future projects. In the meantime, here are some flavours you can already discover:
100% dairy butter
Pure dark Belgian chocolate chips
Maple syrup
Cinnamon
NEW: A 100% Vegan certified waffle, amazingly natural.